DEYING Mould After-Sales Service Process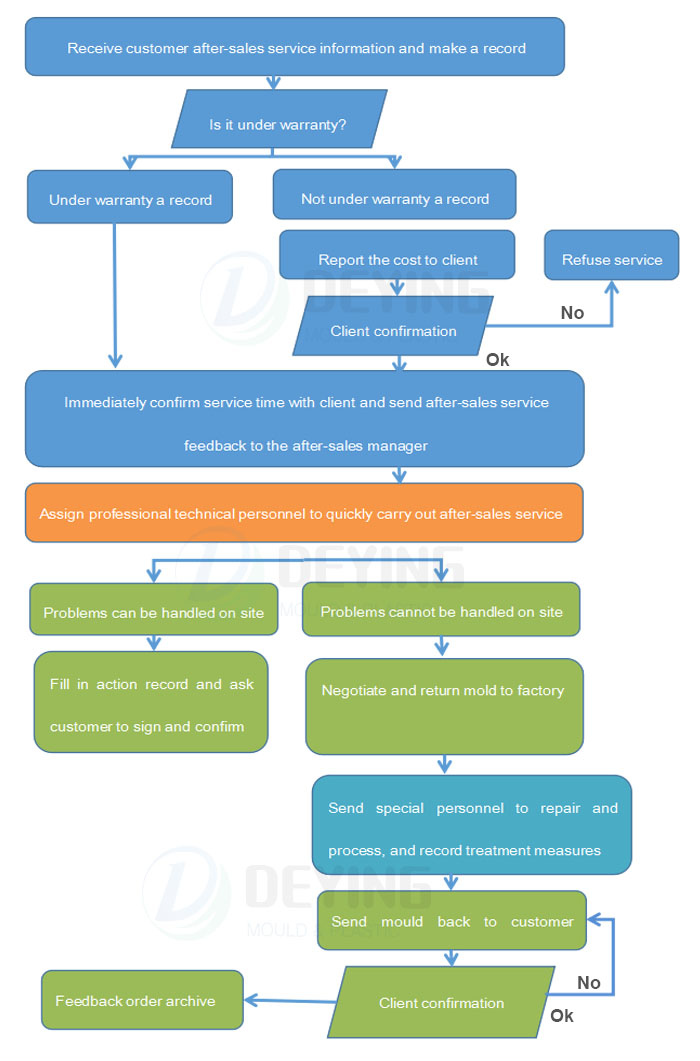 Chinese mould supplier with good service
There are thousands of mold makers in China, and all mold makers are promoting their own molds and quality. But how to choose the best one to become your trusted molding supplier and establish a long-term relationship with it ? This is a big challenge.
DEYING will be different from other mold suppliers because we know that you are not only concerned about the quality of Chinese molds, or how many molds we have made. You are more concerned about how to get the best service in the mold purchase process, DEYING MOULD we are confident to provide you with high quality service.
Our service - pre-sales service is the first stage. After receiving your inquiry, the DEYING sales team will provide you with the mold quotation in time. As an experienced mold manufacturer in China, we can also provide you with a series of recommendations, plastic molding feasibility analysis, applicable material recommendations, injection molding machine model selection.
The second service is the progress update and related services during the mold order, and we will do our best to meet your satisfaction. Let your DEYING win in your list of Chinese mold suppliers
The third and most important service of our service - mold after-sales service. DEYING will be a good mold maker and will also be ready to send your mold parts and re-manufacture all the molds for the broken mold components for lifelong service. At the same time, in order to help our inexperienced customers, DEYING's engineering team can go to the destination country factory for staff training. It can teach customers how to use molds to build long-term relationships with DEYING. This makes the DEYING brand a unique brand among Chinese mold suppliers.
Our after-sales engineers will provide you with solutions within 1 working day.

1. Free replacement: standard injection mold 1 year quality free guarantee,free replacement by new accessories if non-external reasons;
2. Mould life:molds from 500k to 5 million mold life;Molding meets fast market mold guarantee time
3. Timely communication: respond to your questions in time within 24 hours and help you develop solutions;
4. Information supplying: provide drawings and changed data used in mold manufacturing process;
5. Maintenance: provide mold maintenance plan, maintain your mold comprehensively;
6. Regular return visit: visit your mold usage regularly, give you professional advice and get valuable customer feedback;
7. Regular customer service: build your data into our customer database to make you become our regular customers for more preference and discount.
8. Tailor special support: We will supply special support for repair and warranty time All DEYING molds are lifetime service and drawing support.
Welcome to leave message here, we will take serious consideration and feedback to you soon.